The question hasn't been asked yet, so let me take a moment to ask and answer it myself. "What edition of Luther's Works are you quoting here?" In my "Luther on..." posts, which I'm drawing exclusively (so far) from Faith Alone, a excellent collection of Luther selections edited by James . . .
August 26, 2008
Luther's understanding of vocation was revolutionary in the face of the medieval monasticism that surrounded him. In contrast to the prevailing wisdom of the day, which held that some activities/vocations/callings were inherently more holy than others, Luther maintained that the seemingly ordinary life to which most believers were . . .
August 25, 2008
On the subject of testing God, Luther writes:
Deuteronomy 6 teaches us to trust that God will take care of us in good and bad times. We shouldn't become overconfident in times of plenty, but we also need to patiently endure times of adversity. God will never leave us. He will be near us in our . . .
August 18, 2008
After several months off, I'm feeling the bug to begin writing again! Let's see how it goes this time...
August 18, 2008
I'm tired of blogging, at least for now. My time, it appears, would be better spent reading or writing in other venues, so at least temporarily I'm taking a break. Maybe for a week, maybe for a month, maybe forever. I've got these words running through my head and can't offer up an argument to refute them, so . . .
May 06, 2008
It has been almost three months since we've had any a-musement around here!!! So here's my favorite T-mobile commercial of all time...probably because I see this conversation happening around our dinner table in about 7 or 8 more years:
[youtube=http://www.youtube.com/watch?v=ZUHT-p8svkc]
Disclaimer: I have no . . .
May 02, 2008
Thank God there are some real role models left in the sports world...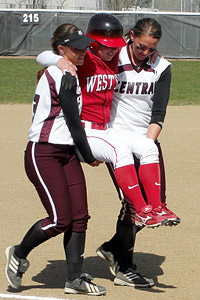 I've railed against poor role models in sports in the not too recent past, but I saw this story today that gives me real hope. This event will doubtless fail to receive the amount of media attention it should, and those who read about these two ladies will . . .
May 01, 2008